Wednesday, February 16, 2011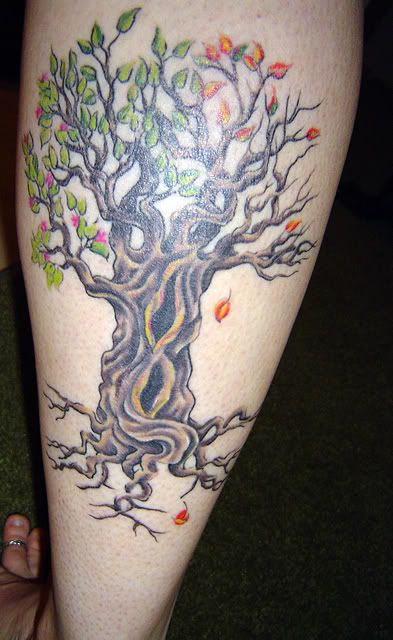 A lot of people have been very curious about my tattoos, so I thought that I could start my blogging life by explaining one of my biggest and most important tattoos (I have about 8 in all). I am working on a sleeve, which is also very important, but it is a work in progress. Once it is close to finished, I will delve into the explanation and pictures of that one.
I waited to get tattoos until I was about 22 years old. That was on purpose, as I didn't think I was mature enough before then to know what it was that I wanted. I am so glad that I waited; my ideas at the age of 18 were vastly different than at 22. I am very happy with what I have chosen at this point.
Nature has always played a huge role in my life; I go to the woods or to the sea, or just outside, to collect myself and calm my thoughts. I have always found this solace in nature, even from a very young age. My family has always been the kind that went hiking and explored the outdoors, and I am very grateful for that. Not only did they introduce me to the great outdoors but, before I could even walk, I was taken to almost every sort of museum you could imagine, where I played with Tesla coils and looked at Rembrandts. To this day I have a great appreciation for art and museums. Art holds a special place in my heart: I myself cannot create art to save my life, and I am awed by watching someone make a canvas come alive or make a figure from a piece of clay. I am enamored by dancers, and have great love affairs with some fashion designers. I think that's why I like modeling; I feel that I am part of the art somehow.
I am okay with the fact that I am not an artist; we all have our talents and I am more than happy that someone else can do that. In a sense this brings me back to my tattoos. As with modeling, I feel I am somehow part of the magic. Tattoos are the art I get to keep with me and be part of the creation by giving them life with an idea, a concept that thrills and delights me. My tattoos are all very science and nature based. Some serve as reminders, some as inspiration, and some help in the definition of me. I only have one that does not fall into this category, and it is a memorial tattoo for a good friend who passed away in April 2009.
As you can see above, there is a tree. It looks suspiciously like the Tree of Life, which the inspiration does come from, but I am not religious, and I find that some of same meanings can stand for science. This is my tree of infinity. Look closely and see that the trunk has an infinity symbol inside of it, and the branches and roots have a plethora of infinity symbols running all the way through. On a closer look, you see that the tree itself represents the four seasons of spring, summer, autumn, and winter. For me it's the infinitum of life and death; the circle keeps going and knows no time, just cycles. Everything has its cycle: life to death to life to death again; dust to dust. The four seasons representing the stages we go through in life, and all the stages in which life takes place in every organism - there is a definite cycle, each different and each the same. Spring to summer to autumn to winter… birth to death.. Infinity is written all over this cycle of life, hence the small infinities written throughout the tree. The nice thing about it is that each life has some effect on this infinity, and we are all parts of it. Nothing is permanent, and nothing affects us more. Change and cycles are inevitable - but we matter, and what we do inside of each cycle matters. The idea really transfixes me, and I think about these sorts of things a lot. I have a true obsession with the infinity symbol because of this.